a socialLY-impactful road trip TO celebrate bathukamma and reconnect with our womanhood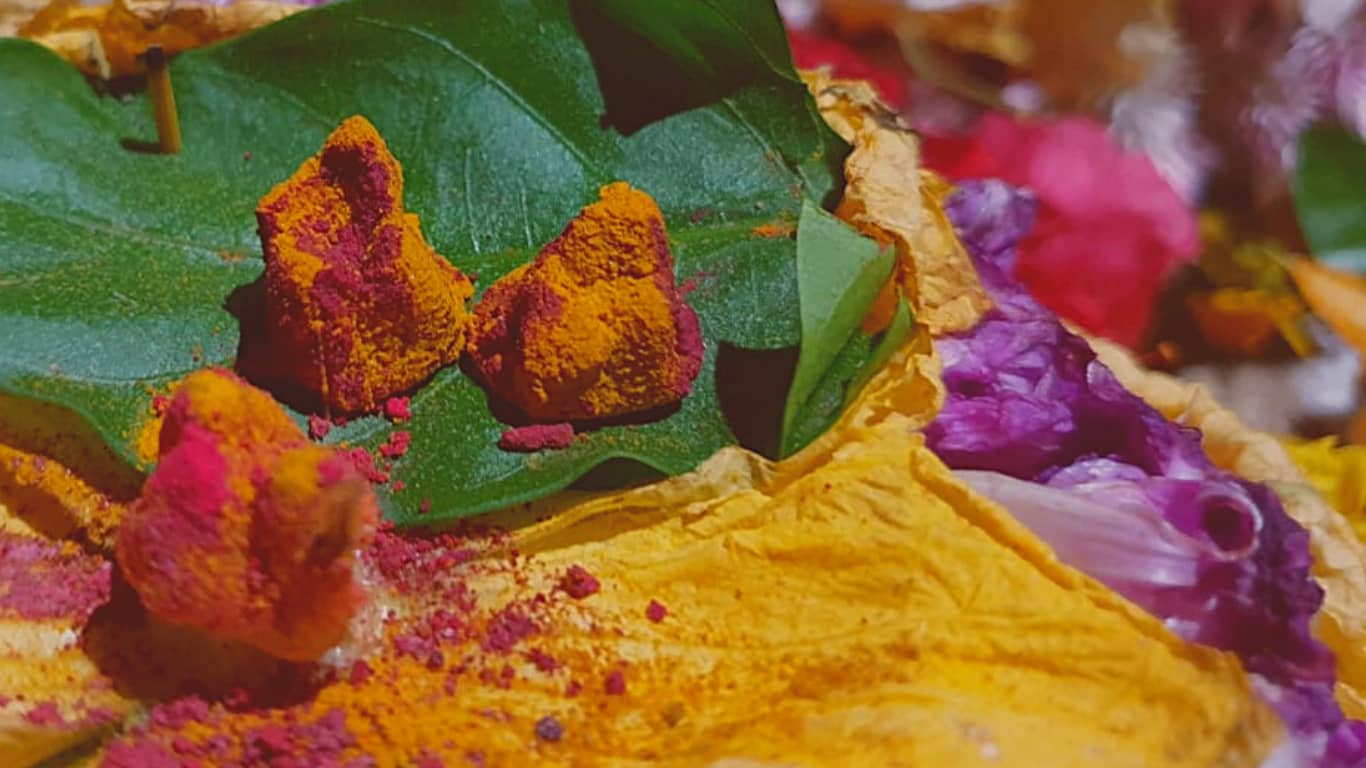 Going on an India road trip with us is not just about a motorbike journey from Hyderabad to Suryalanka Beach. 
It's about soaking in the colorful region of Telangana and its most rural areas, surrounded by magnificent green forests, Warangal's UNESCO 1000 pillars temple and the peaceful sea of Suryanlanka Beach.
It's about meeting Indian women and celebrating Bathukamma, a 9 days flowers festival, a tradition dating back thousands of years.
It's about being granted unique glimpses into Indian culture and crafts, learning about the handloom dying process and visiting local artisans.
It's taking part in a motorcycle adventure that brings us back to the roots of womanhood and sisterhood.
Discover you womanhood power in this road trip.
sharing with indian women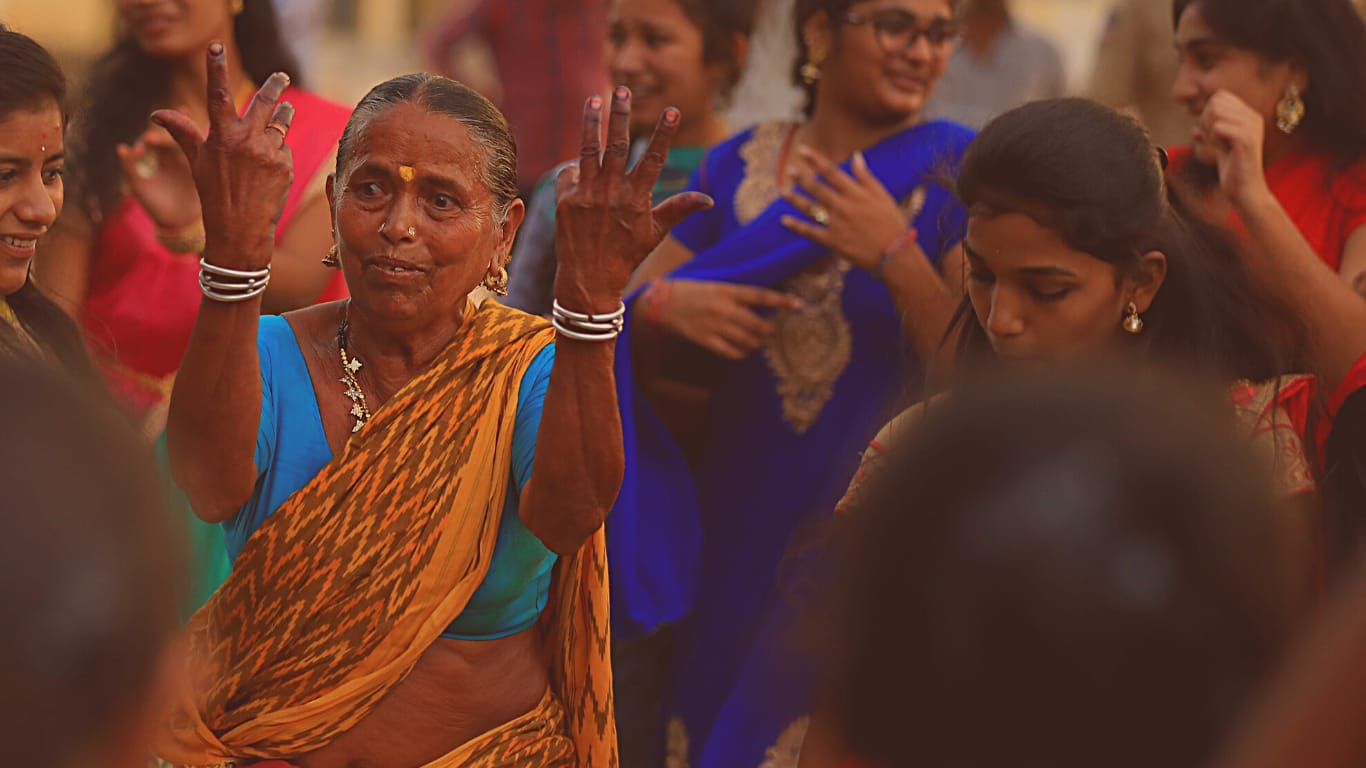 Interacting with the families of Jannaram, the land of tribals and their artworks, where about 100 families keep alive the 4000 years old metal craft work in lost wax and clay techniques.
Having lunch with the girls from the Tribal & Social Welfare College, where tribal village girls gets free education and motorcycling trainings.
Distributing reusable sanitary pads and educational material in rural areas.
When you take part in this adventure, you not only contribute to several local organisations but you also create sisterhood bonds that overcome frontiers.
experiencing the Bathukamma festival
Bathukamma is about women getting together and celebrating for over 9 days with different flowers every day, representing unity in diversity.
These flower compositions are then immersed, acting as natural water purifiers cleaning up the lakes.
This experience reconnects us with our power as the mothers of humankind, strengthening our bonds across cultures and generations.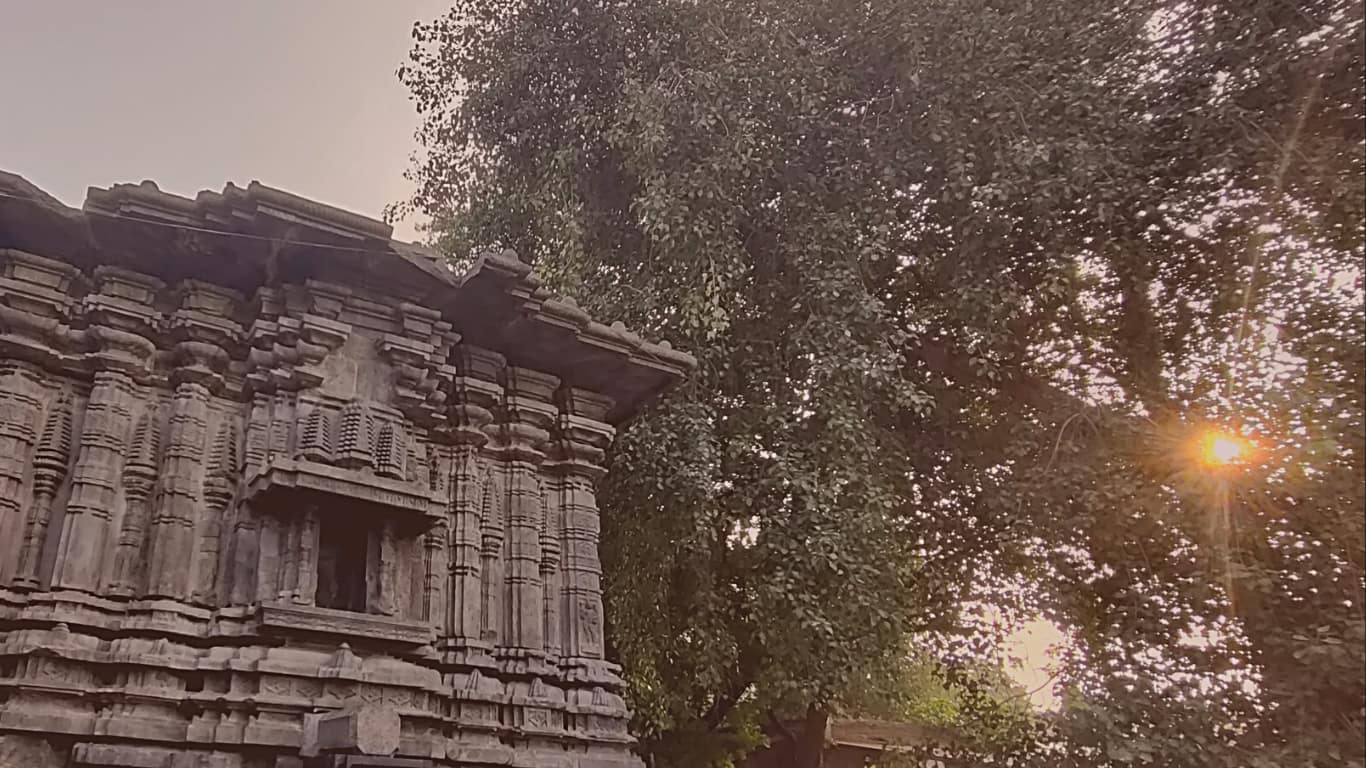 Discovering Warangal, famous for its 1000 pillared temple carved in stone and dedicated to feminine gods, dated from the 7th century.
Marveling at the edge of a river to admire the silence and the redness of the sunrise.
This is how you will experience these rest times when you get off your motorcycle.
DISCOVER OUR ROAD TRIP IN telangana, india
From Hyderabad to Suryalanka Beach, your motorcycle trip will be a wonderful adventure through the beautiful region of Telangana.
Surrounded by inspiring women, this trip might be one of the most fascinating of your life as a motorcyclist. 
We will mainly be on tarmac or cement topped roads but sometimes unpaved when going through more remote areas.
You might be challenged by the Indian traffic, the simple conditions of the places where we will be staying, and the spicy food. 
DESTINATIONS
1. Hyderabad : Visit MoWo school, meet your sponsorees, and dine with the Bikerni Hyderabad Chapter.
2. Hyderabad – Narayanpet: Play Bathukamma & camp by the lakeside
3. Narayanpet – Vikarabad: Hit the scenic route, and enjoy a sunset yoga class
4. Vikarabad – Nirmal: Visit the government training center for girls and share a lunch with them
5. Nirmal – Jannaram: After a refreshing waterfall plunge, meet a forest tribe and prepare Bathukamma with them
6. Jannaram – Warangal: Celebrate Bathukamma at the UNESCO 1000 pillars temple
7. Warangal – Nalgonda: Visit the handloom houses in Ponchampalle
8. Nalgonda – Suryalanka Beach: Enjoy a day at the beach
9. Suryalanka Beach – Hyderabad: Enjoy a shopping session and get your saree ready
10. Hyderabad: Wind down with an ayurvedic massage and celebrate the main Bathukamma in your saree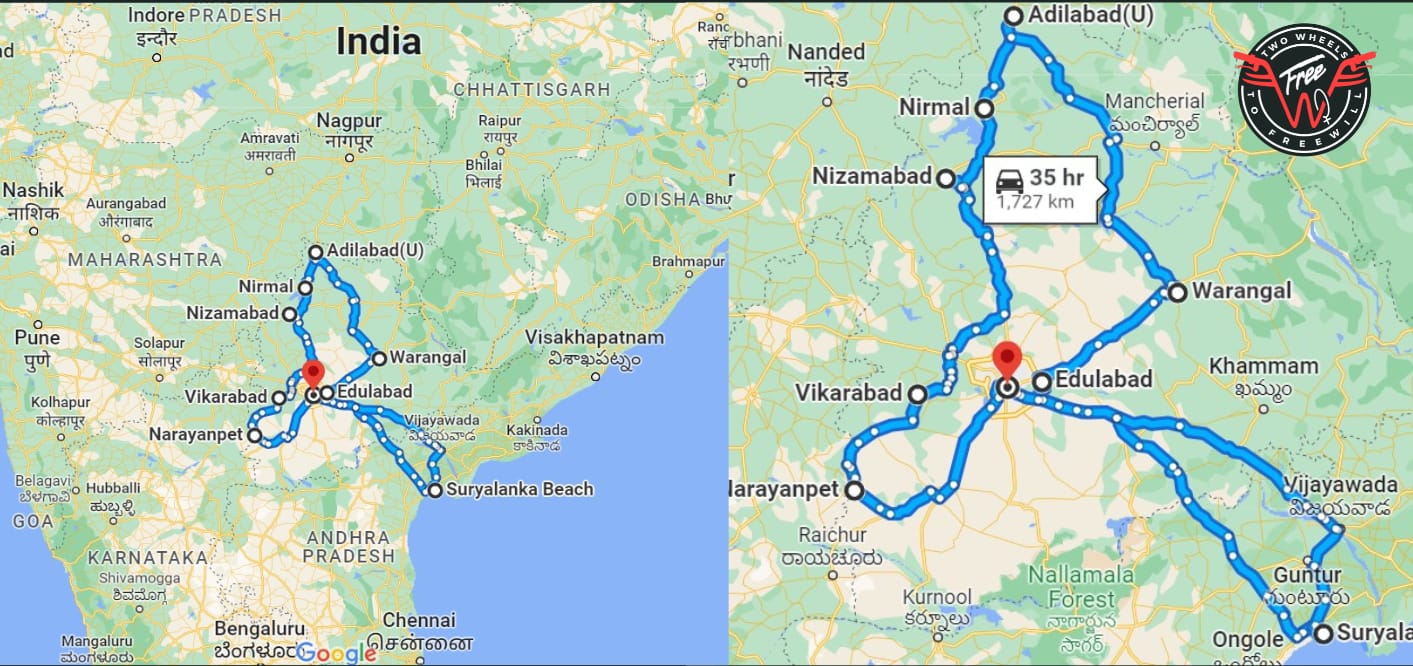 The minute you land, we look after you.
Our tours are designed to ensure maximum safety and quality standards we are striving for throughout our journeys.
Following is an overview of what is and what isn't included.
INCLUDED
– Airport pick-up/drop off in India
– Accommodation 11 nights
– Motorbike rental for 9 days
– Fuel and oil
– Breakfasts, lunches and dinners
– Water, soft drinks and tea on the road
– Inter/national tour lead
– Local contributions
– Support van for luggage/spare parts
– 1 welcome gift
– 1 yoga class
– 1 Ayurvedic massage
EXCLUDED
– Fight to/from India
– 100 $ safety deposit
– Entry fees other than specified
– Self inflicted bike damage
– Saddlebags
– Alcoholic beverages
– Tips for local staff
– Personal travel/medical insurance
– Optional activities: e.g. high tea, boating, ATV, organic farming
– Visa fees India
NEXT DATES: OCTOBER 2024
GROUP SIZE: MAX.8
DURATION, LEVEL AND DISTANCE
– 12 days, 9 riding days
– Moderate (cemented roads but challenging traffic)
– Approx. 1,700km
MOTORCYCLE, HOUSING AND PRICE
– Royal Enfield Classic 350cc
– Mix of basic hotels and wild camping
– EUR 2,750 / pers
Jai Bharathi
–
founder of MOWO
Jai is an avid motorcyclist from India, leading Bikerni Hyderabad, a regional chapter of 'The Bikerni', an all-women motorcycle club.
She has led multiple motorcycle trips to Ladakh, Kashmir, and a cross-country expedition across six nations in Southeast Asia covering 17000 km.
Her passion for her motorcycles and inclination towards social issues inspired her to set up Mowo Social Initiatives Foundation which works towards empowering women using mobility as a tool.
URVASHI PATOLE
–
CO-Founder of THE BIKERNI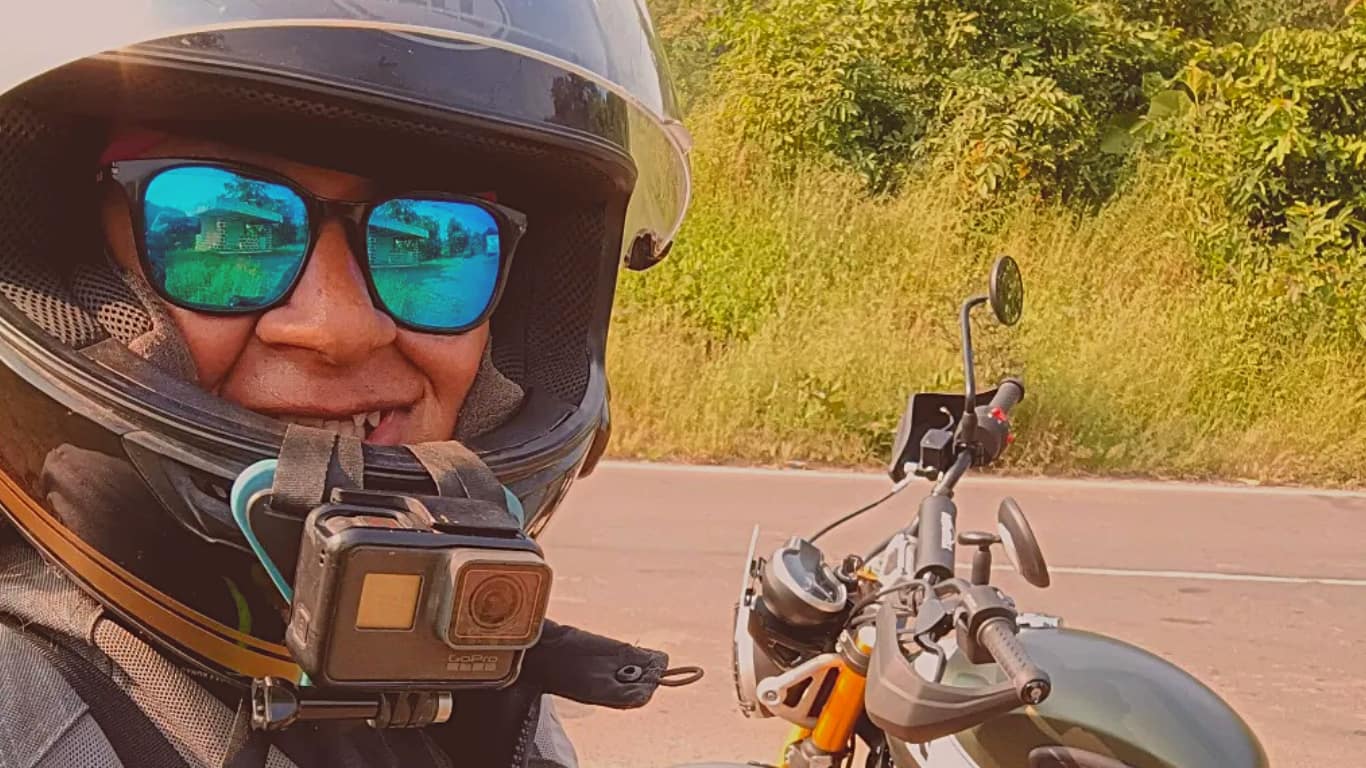 Urvashi Patole, a co-founder of The Bikerni, India's pioneering and largest all-women motorcyclists association established in 2011, boasts a solid foundation in marketing and brand building.
Her professional journey includes significant roles with renowned automotive manufacturers in India.
Leveraging her expertise, she excels in designing ride programs, fostering communities, and spearheading memorable tours, contributing a wealth of knowledge in execution and campaign management.
Can I arrive earlier/ leave later?
Yes. We can recommend and help you book a few extra nights accommodation and we will cater for airport pick-up/drop-off.
Costs will be borne by you.
Do I need to bring cash? and How much?
Yes, you can easily change your cash in Hyderabad, but it will be more difficult in the rural areas.
Since the trip is all inclusive, your budget will depend on the optional activities you wish to do and tips you wish to leave (suggestion: EUR 500 max).
You can also withdraw and pay in most places with your VISA cards.
How is medical assistance in India? Do you have somebody on the team who can give first aid?
We will carry a first aid kit and one of our team members will be able to carry first aid gestures.
Clinics and hospitals are easily accessible on our route too.
Do we need any specific vaccines or medicines?
Covid-19 vaccines are compulsory to enter India (take your printed certificate), and take sufficient quantity of any of your personal medications.
You can check any update here: https://wwwnc.cdc.gov/travel/destinations/traveler/none/india
And we will let you know closer to the date if there is any new in-country health requirements.
What insurance do I need to take?
Any international travel insurance that covers medical repatriation and "dangerous" activities such as motorcycling travel.
Covid-19 vaccines are compulsory to enter India (take your printed certificate), and take sufficient quantity of any of your personal medications.
How much do we usually tip in India?
During the trip, we will take care of the tips for the team for fair allocation.
Outside the team members, you can usually tip 10 to 15% of the bill amount.
What if I don't get on with my roommate or she snores? What is the extra cost of a single room and can I get one along the trip if I need it?
As you get to know your fellow travelers, you will certainly be allowed to swap roommates.
We can eventually allocate a single room but cannot guarantee it as availability might be scarce in some areas we are travelling to.
Extra cost for the single room will be between 20 and 25 euros per night.
How is the food? And how is the water?
Food is very flavourful and usually quite spicy, but we will arnage for non spicy food too.
Bottled water will be provided during the duration of the trip (bring your own bottle so that we can refill them from our big 20L bottles)
Do I need to bring camping gear?
No, we will provide everything.
However, if you feel more comfortable with your own sleeping bag or pillow for example, you should bring it.
What happens in case of an accident/ if I break the bike? or if the bike gets stolen?
Bikes are insured. For small damages below 100 euros, your deposit will be used.
For bigger damages, the insurance will cover the costs.
Security of the bike will be our responsibility.
Do we have mechanics assistance?
Not on the team.
However, mechanics shops are available along the route and it's very easy to get mechanical assistance anywhere, especially for Royal Enfields (hence our choice of these bikes).
pictures of OUR road trip