what women riders said about our road trip in nepal
a socialLY-impactful road trip TO RECONNECT WITH YOUR WILDEST SOUL
Going on a Nepal road trip with us is not just about a motorbike journey from the steaming lowlands of the Terai to the impressive heights of Mustang.
It's about being in "The Abode of the Gods", surrounded by snow-capped white peaks, dusty and stony brown roads, untammable green vegetation and rivers.
It's about being with remarkable and smiling Nepalese people who share their culture and traditions in a thousand ways.
It's taking part in a motorcycle adventure where you reconnect with yourself and others.
With this road trip, you will find out what you and other women are made of.
sharing with nepalese women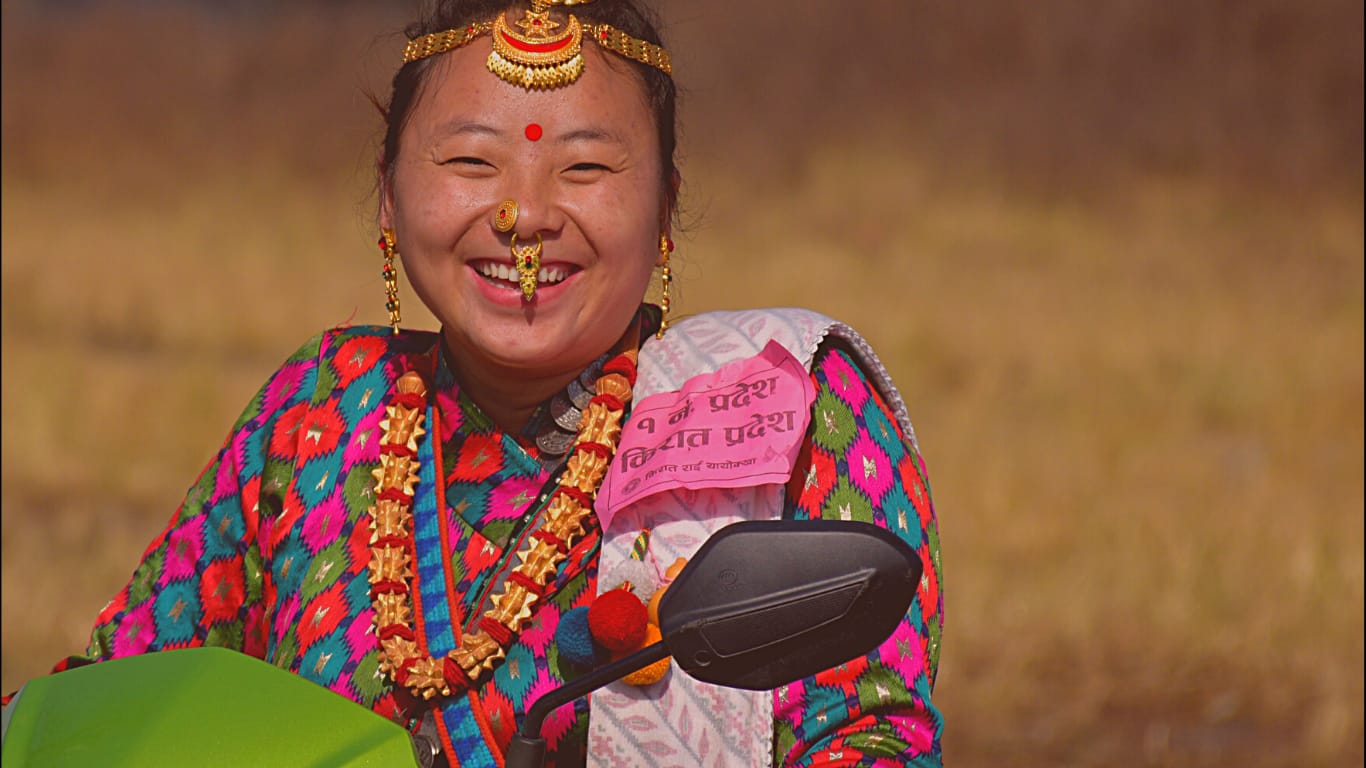 You will meet remarkable women of Nepal known for their great hospitality and joy in sharing their communities and humble homes.
We look up women-led businesses, ride with local women and enjoy their company whenever we can.
These enriching exchanges will help women-led organizations like 7 Women, Community Homestay, and Nepal International Women's Motorcycle Association to thrive.
LEADING TO your strongest soul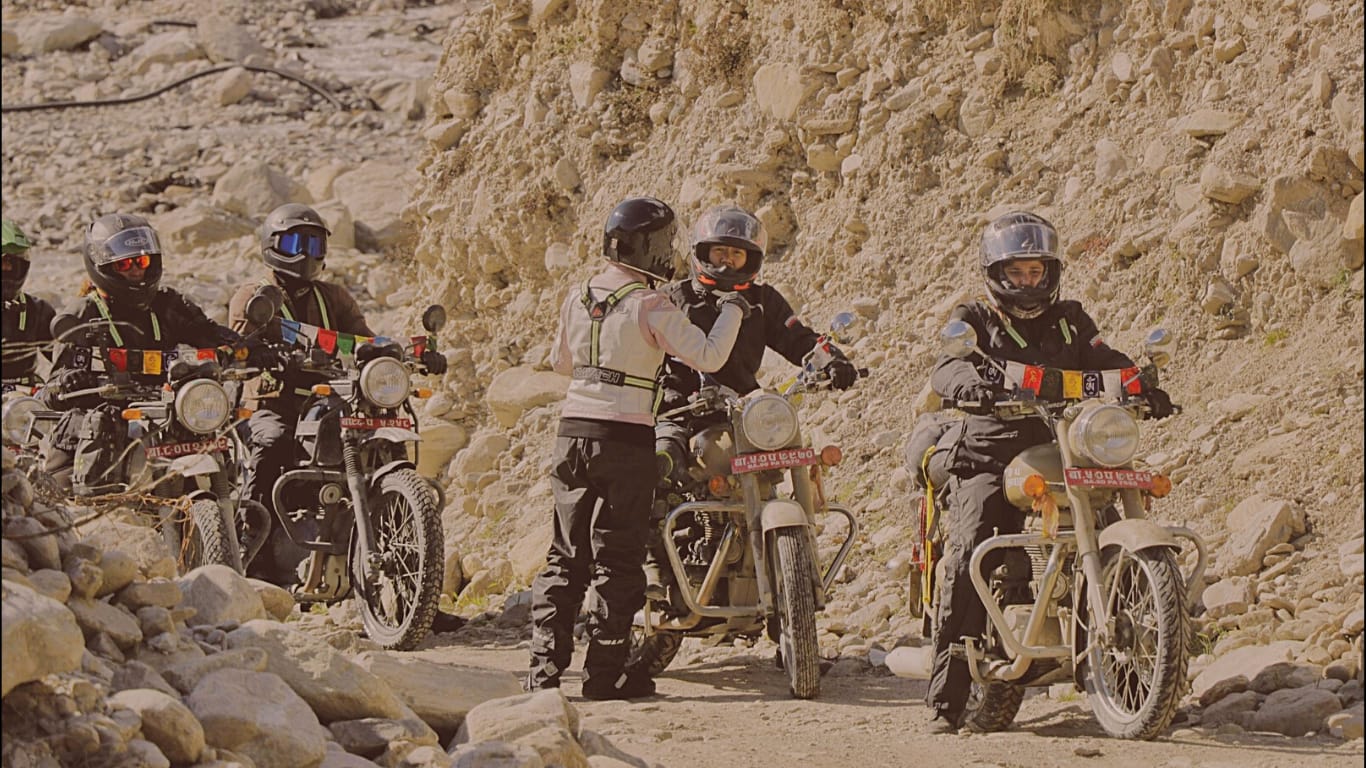 We grant you unique glimpses of what Nepal has to offer.
You will ride through astounding sceneries, spot snow-covered peaks, witness wildlife at its best, bike along roaring rivers on roads skillfully twisting high above their banks, meander through rugged mountain ranges. 
When you do, you will not only discover that you can do it, but also that nothing is beyond your reach.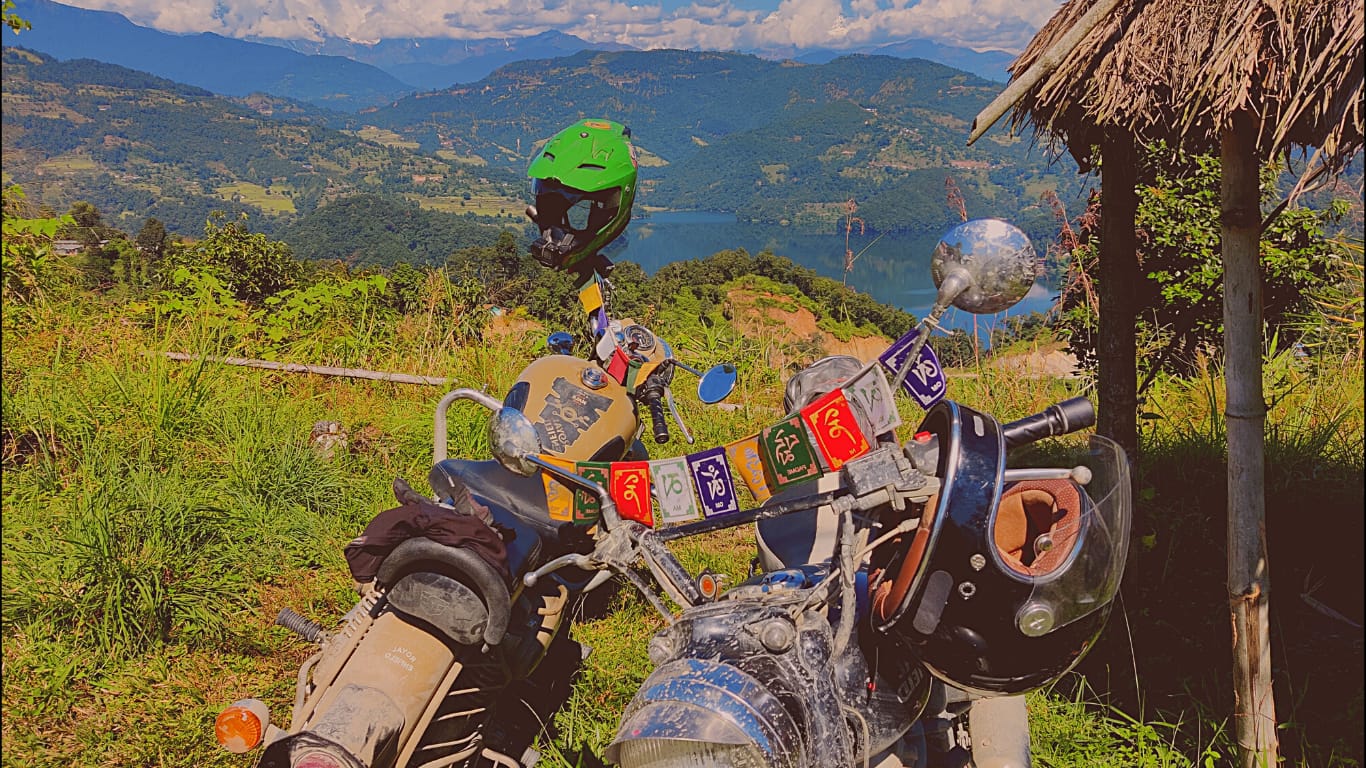 Being amazed by the colorful eternal flames, the red and white monasteries or the melodious singing of Nepalese prayers.
Marveling at the edge of a river to admire the sparkling peaks while chatting with smiling locals.
This is how you will experience these rest times when you get off your motorcycle.
DISCOVER OUR ROAD TRIP IN nepal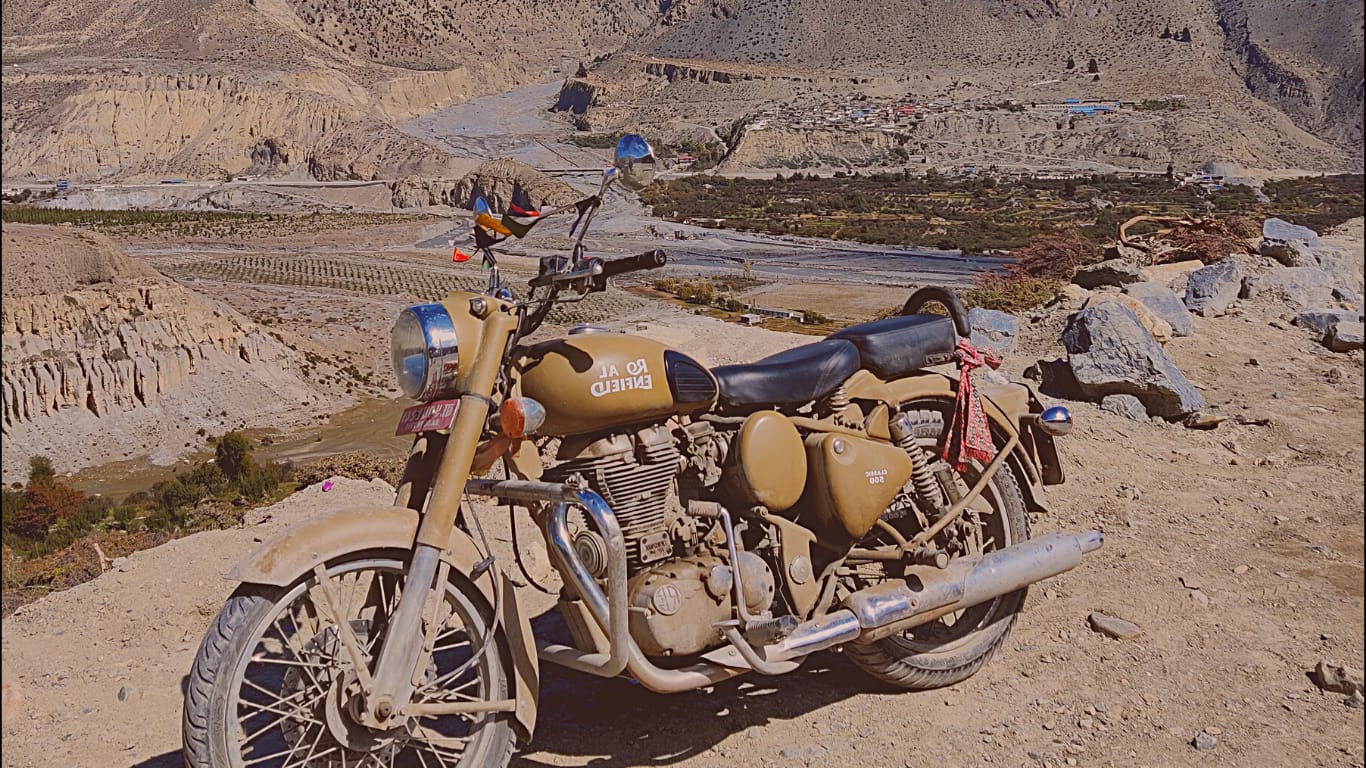 From Kathmandu to the Terai and the Himalayas, this trip will take you through the most beautiful regions of Nepal. 
A challenging road trip with off-road sections, ever-changing altitude, and traffic, that will certainly be one of the most spectacular of your life as a motorcyclist.
You will require resilience and a quench of boldness. But you'll be surprised how far we can go together.
DESTINATIONS
1. Bhaktapur via Nagarkot: warm up ride to taste crazy traffic & off-road sections
2. Kathmandu – Kulekhani: Meet local women riders and escape the city
3. Kulekhani – Meghauli: cruise to Chitwan and stay with the Tharu community
4. Meghauli – Pokhara: ride along gushing rivers into the green heartland of Nepal
5. Pokhara: explore the unbeatable backyards and vistas or relax by the lake
6. Pokhara – Kalopani: follow one of the world's deepest gorges into Mustang
7. Kalopani – Muktinath: reach the famous temple via backyard villages
8. Muktinath: early morning temple hike and cold bath, explore nearby villages
9. Muktinath – Tatopani: relax in the hot pools after a challenging day's ride
10. Tatopani – Dhampus: climb terraces and dance away with Gurung women
11. Dhampus – Charaudi: head towards an ancient hilltop town with awe-dropping views
12. Charaudi – Kathmandu: get ready for the long haul back to the busty capital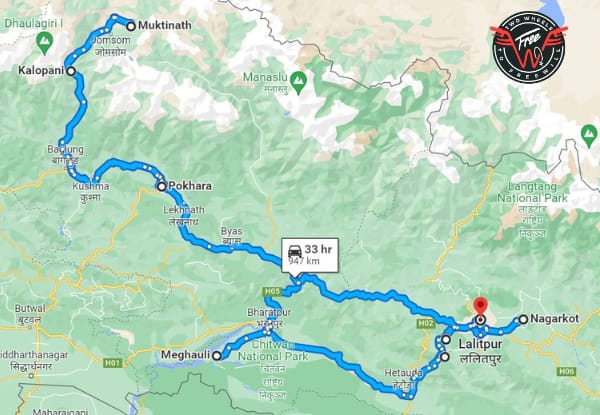 The minute you land, we look after you.
Our tours are designed to ensure maximum safety and quality standards we are striving for throughout our journeys.
Following is an overview of what is and what isn't included.
INCLUDED
– Airport pick-up/drop off in Nepal
– Accommodation 13 nights
– Motorbike rental for 12 days
– Fuel and oil
– Breakfasts and lunches
– Water, soft drinks and tea on the road
– Inter/national tour lead
– Local contributions
– Entry fee Bhaktapur
– Entry fee Chitwan National Park, Mustang
– Support van for luggage/spare parts
– Daily mechanical servicing
– Motorbike puja prior to departure
– Welcome gift
EXCLUDED
– Fight to/from Nepal
– Evening dinners and drinks
– Medical insurance
– 100 $ safety deposit
– Entry fees other than specified
– Visa fees Nepal
– Self inflicted bike damage
– Saddlebags
– Alcoholic beverages
– Tips for local staff
NEXT DATES: 13 to 26  APRIL 2024 AND OCTOBER 2024
GROUP SIZE: MAX.8
DURATION, LEVEL AND DISTANCE
– 14 days, 12 riding days
– Challenging (with offroad)
– Approx. 1,000km
MOTORCYCLE, HOUSING AND PRICE
– Royal Enfield Classic or Himalayan
– Mix of guest houses, homestays and hotels
– EUR 2,900 / pers
Sushant Ghimire
–
partner of freew nepal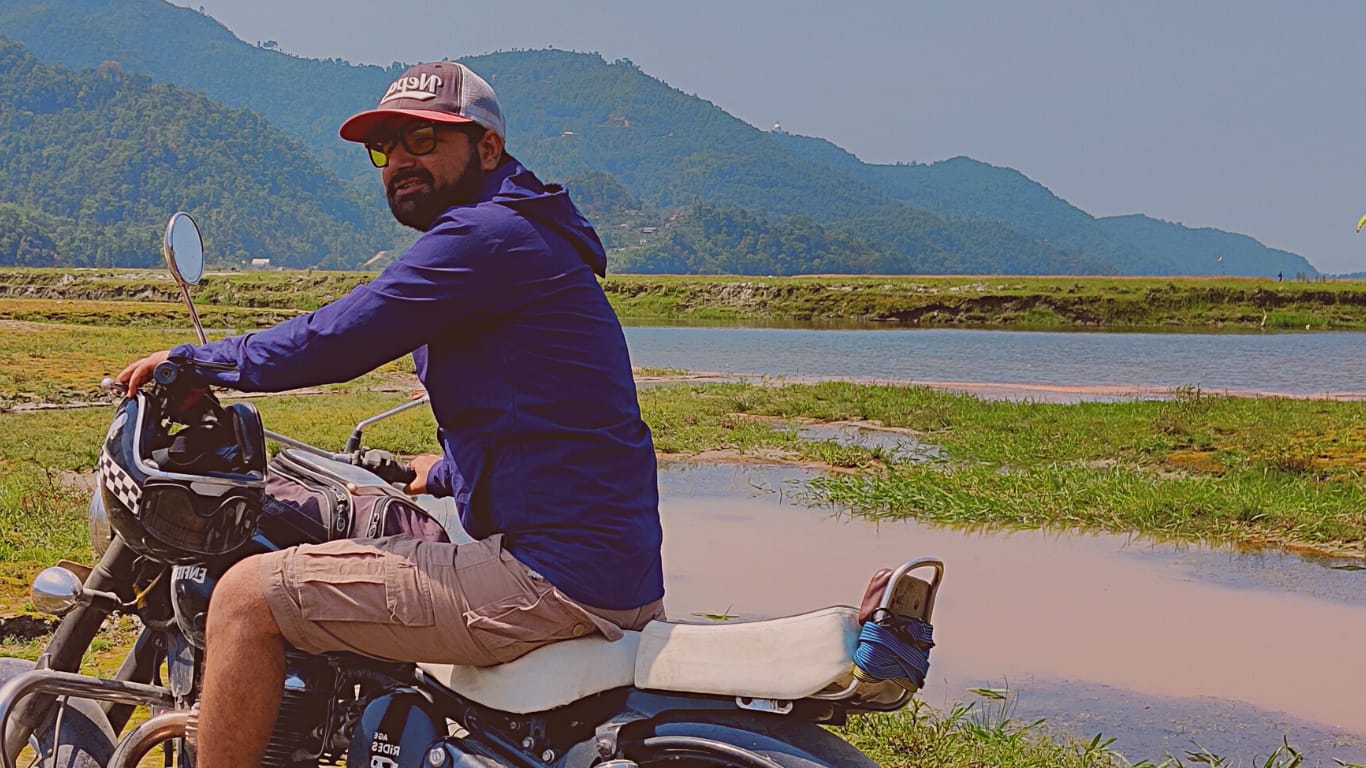 Sushant is actively engaged in the development of his country, training and empowering youth and girls to take part in motorcycling and community-based tourism.
He led Alison's (Founder of FreeW) tour in 2019, and their shared values kicked off a collaboration.
His kind heart, can-do attitude, professionalism, great sense of humor, singing and dancing skills make him a terrific and reliable guide.
kreetika THAPA
–
motorcycle instructor at freew nepal
With more than 5 years experience in motorcycling, Kreetika has been dedicating time to improve her skills and share her knowledge with others.
She has done a lot for FreeW, not only as a motorcycle instructor but also managing our social media channels.
She used to work for Women for Human rights, Single Group (WHR) and recently committed full time to our organisation to combine her desire to support women's emancipation while developing a career in the Tourism industry as a Road captain.
 Shetal
–
motorcycle instructor at freew nepal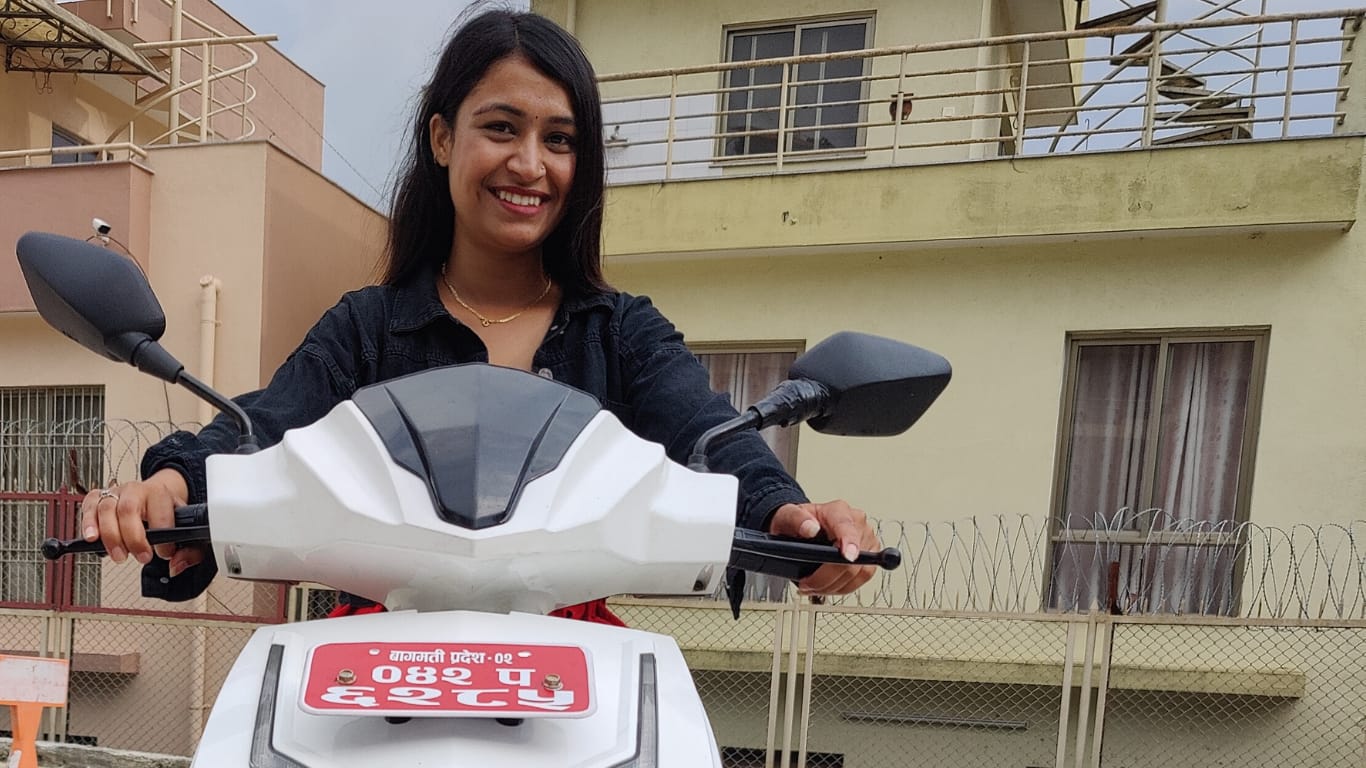 Shetal studies social work and has been riding since the age of 16.
She has done a few solos and group rides in Nepal, and took part in various local racing competitions.
She gives motorcycle training to women for FreeW, and dreams of being the 1st official Female motorcycle Road captain in Nepal.
Her interest in developing skills in the tourism industry pan out from tour guiding to operations and even mechanics. 
Can I arrive earlier/ leave later?
Yes. We can recommend and help you  book a few extra nights accommodation. We will cater for airport pick-up/drop-off.
If you wish, one of our Instructors can join you for a short warm-up  will help you for short warm up ride and/or city tour .
Costs will be borne by you.
Do I need to bring cash? and How much?
Yes, you can easily change your cash in Kathmandu, but it will be more difficult in the rural areas.
Your budget will depend on the optional activities you wish to do, and the food you want for dinners. International dishes are more expensive than local food. We would suggest up to 500 euros max.
You can also withdraw and pay in most places with your VISA cards.
How is medical assistance in Nepal? Do you have somebody on the team who can give first aid?
We will carry a first aid kit with us and our team members are experienced in giving first aid.
Clinics and health posts are  accessible on our route.
Do we need any specific vaccines or medicines?
What insurance do I need to take?
Any international travel insurance that covers medical repatriation and "dangerous" activities such as motorcycling travel.
How much do we usually tip in Nepal?
During the trip, we will take care of the tips for the team for fair allocation.
Outside the team members, you can usually tip 10 to 15% of the bill amount.
What if I don't get on with my roommate or she snores? What is the extra cost of a single room and can I get one along the trip if I need it?
As you get to know your fellow travelers, you will certainly be allowed to swap roommates.
We can eventually allocate a single room but cannot guarantee it as availability might be scarce in some areas we are travelling to.
Extra cost for the single room will be between 40 and 45 euros per night.
Do I need to bring camping gear?
No, we will provide everything, and we do not camp as we mainly stay in tea houses and homestays.
However, if you feel more comfortable with your own sleeping bag or pillow for example, you should bring it.
What happens in case of an accident/ if I break the bike? or if the bike gets stolen?
Bikes are insured with 3rd party insurance, covering 50% of the costs for big damages. The remaining 50% will be at your own expense. Small damages will also be at your own expense, up to 100 euros.  and any small damages up to 100 euros.
Security of the bikes will be our responsibility.
Do we have mechanics assistance?
Yes we have a mechanics on the team and carry spare parts with us
pictures of our road trip